In this video, CEO Gary Knight explains the WOLF story so far: how it's taking content creators into 3D virtual reality worlds
We are WOLF Qanawat. WOLF is an audio, metaverse-based, performance experience, built specifically for Arabic users. 
It's fundamentally a 24/7 virtual world of social connection, communities and content creation where people can enjoy the entertainment, fun and friendship they would experience, once or twice a year, at a real-world festival.  
WOLF offers a celebration of culture and creativity in the virtual social world. The concept came from the founder, Martin Rosinski's, and my own passion, for real-life festival enjoyment. We love the experience of discovering new talent, enjoying new entertainment, watching emerging artists perform while hanging out with friends and stepping away from normal life.
We wanted to take that concept and put it in our phones, making that experience accessible every day, all year round, wherever and whenever you want to.
WOLF is an audio app where users can create an avatar version of themselves to perform and engage with others, while protecting their identity, something we understand is important for the Arabic market, particularly for women. This concept of virtual avatars works well in the GCC region especially.
1 – What makes WOLF different from other brands entering the metaverse?
The ecosystem of how WOLF is built is what sets us apart. WOLF is all about the user – they are part of it, they can be part of the festival, they can perform, manage performances, produce them, be part of a group, create a group, bring users into their very own corner of the metaverse. The opportunities are vast. They can build stages, be in the audience, gift other users – it's a whole ecosystem that puts the user at the heart of what we do. 
One of the most exciting aspects of WOLF is its ability to turn emerging Arabic artists into tomorrow's stars of virtual reality – taking the creator economy into the metaverse. WOLF gives users an opportunity to get up on stage in a virtual world and perform their talent to an audience of thousands of people.
2 – How can people be part of the WOLF community in MENA?
WOLF is a free app on iOS and Android, so it's simply a case of downloading it and choosing how you want to use and be part of it. For the artists in the app, if you're a particularly good performer, whether that's in comedy, poetry, singing or many other audio art forms, there is an opportunity to become part of our WOLFStars programme. 
WOLFStars is a talent development programme we run, which helps launch the careers of content creators and ultimately transform them into metaverse stars. Whether you're in front of the audience or working behind the scenes to pull off the perfect gig as a festival 'Producer', you can be involved with WOLFStars. 
In the WOLFStars programme we have a wealth of audio entertainers and people looking to put on awesome shows, which are all backed by us! We bring together those producers who run digital venues within WOLF and the talent who perform on their stages, as well as offering performance-based rewards for winning competitions. It's a perfect springboard for entertainers within the app who want to develop their skills, enhance their profile and build their career.
Each artist can create a 3D video of their performance and stream it live and then share the recording further afield on other platforms outside of the app. And, as a WOLFStar, there are opportunities to monetise their skills. In fact, we've helped some of our WOLFStars secure contracts, record songs, release videos and make a name for themselves in the real world by featuring on TV and radio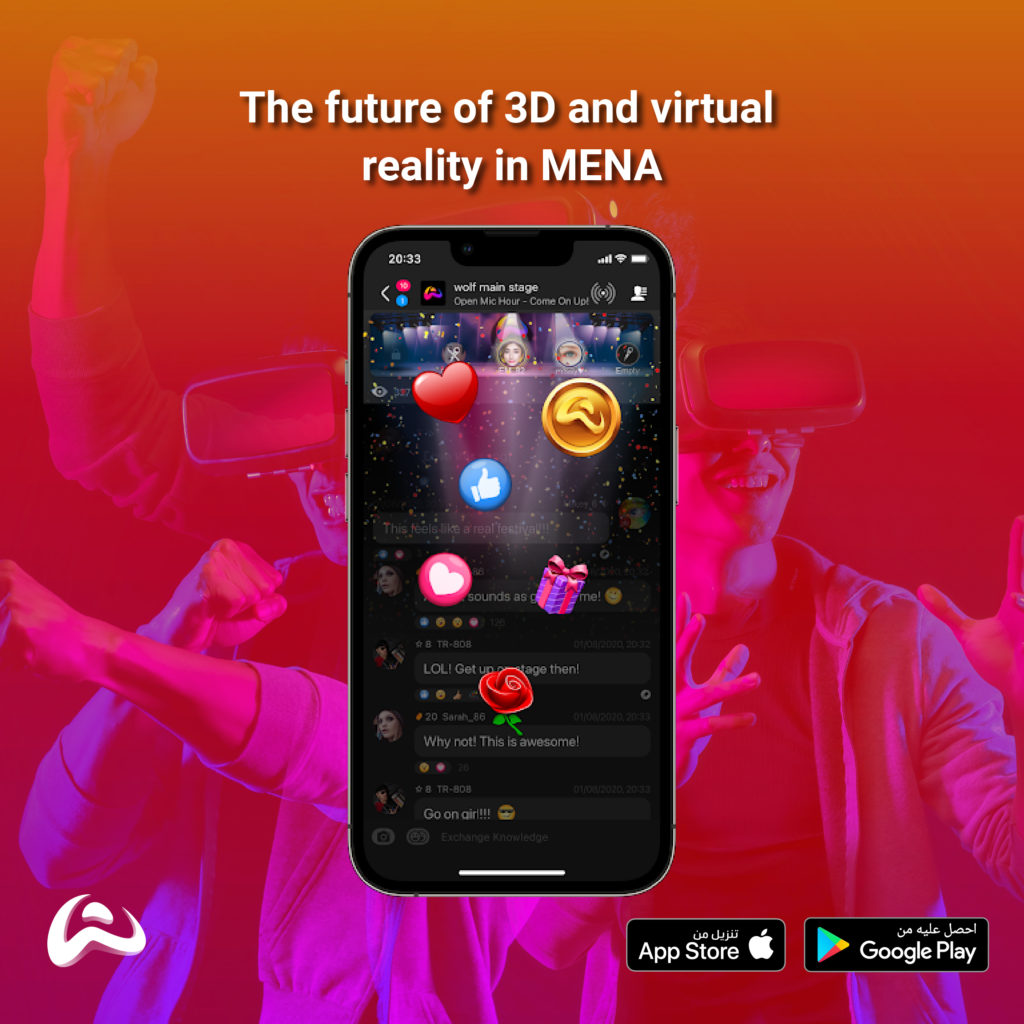 3 – WOLF, the metaverse and the core market
WOLF launched in 2020. The heritage and technology came from Palringo Limited, our parent company with 16 years' of technical app publishing experience. WOLF's predecessor – an app also called Palringo – had enjoyed success in Saudi Arabia especially as a chat and messaging app. 
We operate across the GCC region, and we succeed in doing so by working hard to listen to our users and understanding what they want. As Palringo, the brand listened to what users wanted. We quickly recognised users wanted to perform, visit virtual festivals and build on the friendships they'd made. Thinking about our own passions for that festival feel, we saw an opening in the market. 
Coupled with the trend in the region towards diversifying away from previous industries into technology, cultural performance and entertainment-based experiences, it led us to WOLF. It's not an easy thing to do, but something we feel strongly about being aligned to.  While we are well established in Saudi Arabia and other GCC territories, we now want to grow our market share in the UAE. In late August 2022, we publicised the full launch of WOLFStars in Dubai to attract the talented pool of content creators who are based there, and invite them to become part of the platform. 
What is very clear for us when it comes to the UAE is that there is a huge content creator and influencer scene, and a huge amount of creativity that takes place there and we want to welcome that into our platform.
4 – The future of WOLF
We're looking to aggressively grow the app. Since launch we have had three million Arabic users engaging in WOLF, and now it's about developing the content creator experience and making sure we're building that right.  Here's how:
a) Web 3.0 
When we launched WOLF, we looked at three trends and one of those was the evolution of Web 3.0, which is about to revolutionise the way businesses operate online: offering different monetisation opportunities. Up until now the internet has been centralised – Web 2.0 has been all about control by the big tech corporation (think Apple, Meta, Google, TikTok, Twitter and so on). These tech giants have control in their hands – they can delete users' content, they can introduce new rules to how users engage with the app, they collect data and use it to inform ad spend – and it's become criticised as exploitative in some cases. Web 3.0 is an iteration of this which is going to put more control into consumers' hands where they, until now, have been passive and for us, it's an exciting area to develop.
b) The WOLFStars studio
We will be building a WOLFStars studio in Saudi Arabia where users can come and start performing great original content assisted by long-established professionals. This provides an even bigger opportunity where they can record as well as play live, whether that's songs, comedy, or poetry. The metaverse is seriously opening up life-changing opportunities for performers in the real-world now too.
c) WOLF in a virtual reality world
We're also excited to launch our virtual reality experience. We don't want to be solely a virtual reality app because it limits the market, so this is about giving users the ability to put on VR headsets and enjoy an enhanced experience of being on stage in our iOS, Android and web apps, seeing other avatars enjoy their talents. This is an interesting opportunity for content creators and that's what we're trying to create more of here.  Coupled with the creativity in GCC generally and the UAE specifically, this is a great product-market fit.  
This isn't about competing with Mark Zuckerberg and Meta. We're offering a mini metaverse festival experience based on what we know our users want. It's about offering VR festivals on the go.
5 – The challenges of developing WOLF
There are two things here. The first is ensuring we always make the experience seamless by using the right tech. We went from operating a chat app to building a new business with its core product being an online festival – and that, of course, brought challenges, and new functionality to create.  
The second is always making sure the user experience is right. While we want to acquire users, we need to make sure that our content creators are getting the right experience along with those users who want to enjoy the community and build friendships. We must make sure WOLF fits our users' groups well as we continue to develop.
And lastly, being a UK-based business, we need people on the ground, in the market. Most of my festival operations team is based in the MENA region. The user experience that we provide is fundamentally run from our team in Jordan as well as our consultants who are based across the GCC.
To continue our success into the metaverse and beyond, it's vital we have the right team behind us who listen to our users and get the product-market fit absolutely perfect for them.
At WOLF, we are always looking for partners who are interested in working with us in the next stages of WOLF's journey in the entertainment metaverse.
If you would like to find out more, please click the link below: